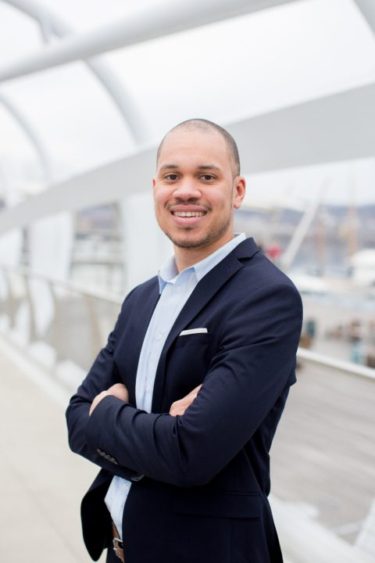 Dr. Chad M. Jones prides himself on providing only the highest quality dentistry. His emphasis on patient comfort, as well as keeping up to date with the latest advancements in dentistry, enables him to provide the best possible care. As the Owner of Navy Yard Dental, Dr. Jones is thrilled to be providing cosmetic, advanced restorative and surgical dentistry services to D.C.'s fastest growing neighborhood.
As a strong believer in continuing professional training and learning about the latest advancements in dentistry, Dr. Jones strengthens and develops his restorative, cosmetic, and implant dentistry skills by completing extensive continuing education programs each year in order to keep providing his patients with expert-level oral health treatment.
Navy Yard dental is a black-owned and black-operated dental office. Dr. Jones prides himself in both treating and employing a diverse group of individuals. Outside of his practice, Dr. Jones serves as a member of the Board of Directors of the DC Dental Society. He also is a volunteer assistant clinical professor at the Howard University College of Dentistry, and a courtesy attending for the General Practice Residency at Howard University Hospital, where he mentors dental students and residents.
In his previous role as a General Dentist at So Others Might Eat (SOME), a community health non-profit, Dr. Jones served as attending doctor for rotating St. Elizabeths general practice residents, providing ongoing mentorship and training. He is an active member of the District of Columbia Dental Society, the American Dental Association, and Academy of General Dentistry; and has volunteered with the Give Kids a Smile program, providing underserved children with free oral health services.
He graduated from Howard University where he earned both his Bachelor of Science and Doctor of Dental Surgery degrees. Dr. Jones received advanced general dentistry training at St. Elizabeths Hospital in Southeast Washington, the country's first public psychiatric hospital, where he worked with patients challenged by substance addiction, mental illness and living in extreme poverty.
As a recipient of this year's Prince George's County Social Innovation Fund Forty UNDER 40 Award, Dr. Jones is thrilled to share his passion for dentistry with the broader DMV-community.
Outside of dentistry, Dr. Jones enjoys spending time with his wife Shivonne and their son,  playing tennis and exploring new restaurants in the D.C.-area. A native of the DMV, Dr. Jones resides in Bethesda, MD.